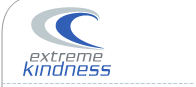 Update 1

"Waste no time arguing what a good person shall be, be one"

Marcus Aurelius knew it, and now we know it. We've taken a page out of 'ol Markus' book and are wasting no time getting this tour on the road: yes party people, the 2002 Extreme Kindness Tour is more than just a rumor!

We're cutting loose in August, and aim to be in St. John's Newfoundland by mid-November. We'll be scrubbing, hugging, cleaning, smiling and motorhome-ing our way across the country with the aim of inspiration, motivation , stimulation, kind-to-the-nation … Ah, finally… We get to leave. All we need is a motor-home, gasoline for three months, food for the same (and, boy, can that Erik kid ever eat!), parkas for a Newfoundland winter, chains for the tires, bug repellent, emergency flares, life-rafts… a long, you understand, and endless list. But, nevertheless, we are leaving, come hell or high water, rain/shine, sleet/snow, oh yes, we certainly are. Pretty sick and tired of sitting before this computer screen.

The story so far: Val, babying his brand-spankin lap-top (mine, it's mine; you keep those grubby mitts away, I tell ya) clipping cutting video pics; Chris, bug-eyed and sketching - too much time before the computer screen, kid, gotta get outside; Brad, catching up on the latest adventures of Asterix and Obelix - get to work, lazy boy; and Erik? Ah, Erik… Downstairs, flat as a board - he threw his back, no joke, on a sneeze. The saga continues…

We say farewell with a challenge: hot weather, we've got in abundance (at least here in Victoria), slurpee time, it most certainly is, so get out there, drop a few bucks, and find mister Perfect Stranger… the treat, Chris says, is on you.