While I was born in Calgary Alberta, Canada, my first memories are of the Isle of Skye in Scotland. For most of my youth and adult life, it has been a consistent dream to return there and discover what I can of the place where the sea and sky meet. Last week I finally stood in the highlands of Skye once more, remembering the small town of Sconcer where I lived and also of getting lost, much to my mothers despair, in the Cullin Hills (think of a smaller but no less formidable set of North America's Rocky Mtns).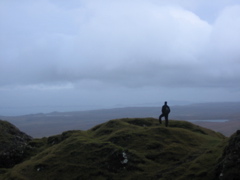 On the third day of our stay, my girlfriend and I discovered a wonderful bakery, proclaimed to be the oldest on the island. The couple who owned the bakery kept us entertained with stories and Scottish pies, while a neighborhood cat share a table with us. Upon leaving, two free brownies were placed into our hands with cheerful farewells. More then the beautiful landscape and the amazing stone castles, this act of kindness made me feel as if I had truly come home. 30 minutes later, however, we discovered that I had left my passport and wallet at the bakery by mistake. I immediately turned the car around and drove quickly North back to the end of the island. When I entered the bakery for the 2nd time I was greeted with happy cries and hugs. They had phoned the police they were so worried that I might not return for my passport. Their genuine caring and friendly hearts were the best part of our Scottish trip.
So the next time you meet a traveler from a distant land, make sure to greet him or her with a smile and if possible a small act of kindness. You might just be bringing them home.
You can follow any responses to this entry through the RSS 2.0 feed. Trackback from your own site.